Building a practice from the scratch has been intimidating yet very fulfilling as I have been able to incorporate my vision of providing dentistry in a relaxed environment, which is inviting enough to be able to come back!
Someone asked me why the name "Loft"?
Lofty is used to describe something that is elevated in character, spirit and rising to a great height. These are the ideals that we want our practice to uphold to, everyday, to provide nothing but the best for our families!
Why blue?
When I researched what color to use in my logo, I knew it had to be blue. You will see blue throughout our practice, logo and everywhere that's us. Blue is the color of the sky and the sea and is known to be beneficial to the mind and body, producing a calming effect. It is often associated with depth and stability. It also symbolizes trust, loyalty and wisdom.
The past few months have been busy getting the space ready… Presenting a few pictures of the process of converting an open space to a nice dental home!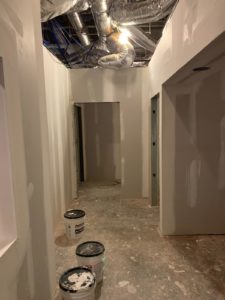 Small steps towards our goal!